Places to Visit in Warwickshire
Warwickshire Top Sights
Posted by valerie on 2/1/2010 6:18:58 PM
No Comment »
Warwickshire is a county which is a home to several attractions. There are quite a number of Places to visit in Warwickshire. From garden, churches, museums and park, there is surely something that can interest the whole family. Visit the warwick castle, Heritage Motor Centre, Collegiate Church of St Mary and more.
Warwickshire is a place situated at the center of England. It is the home of a lot of famous people and it holds a tremendous wealth of history. Warwickshire boasts a lot of top sights that you shouldn't fail to miss. From shopping centers, churches, restaurants, gardens and parks, there are quite a number of notable attractions in the area. If you love shopping then it is best to go to the farmer's market and Jury streets where you can find the oldest trading area in town. You can also see great architectural style of churches in the area. As a visitor, you can select the places that interest you.
Warwick Castle Tour
This is probably one of the best castle structure in the country that was built by William the Conqueror in the 11th century This is a place where you can experience medieval architecture. It has a long history that just left the ruins of the castle. You can join the tour of the whole castle if you wish. The entrance fee for kids and adults are different and affordable.
Supercar Sunday in Heritage Motor Centre
If you happen to visit Warwickshire during Sunday then you can join its Supercar Sunday. There are offer 200 motor cars found in this museum. This is where you can see top of the line British car models in the world. For those car aficionados, this is definitely you dream vacation.
A Glimpse of town using Collegiate Church of St Mary
This place of interests got imposing tower that has a panoramic view of the whole city. It has been rebuilt quite a number of times. This church is one of the best ones found in England because you can find here some masterpieces of medieval art. You need to climb about 134 steps if you want get the view of town and surrounding countryside.
Lose yourself in the beauty of Hill Close Gardens
If you want a tranquil spot then get lost at the beauty of Hill Close Gardens. This is where you can find a network of different Victorian gardens that are separated with high hedges. Select from a peaceful spot in summer houses and old fruit trees where you can view some fruits and vegetables that are in season.
Have fun at St. Nicholas Park
If you have children with you then visit the ever famous St. Nicholas Park. There are fun activities that you can do with your kids like crazy golf course, amusement rides, children's play area, pony rides, outdoor paddling pool and boats for hire and more. There are also football courts, recreation ground, indoor swimming pool and leisure centre.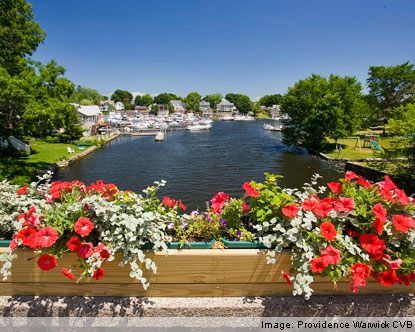 Places to Visit in Oxfordshire >>