Places to Visit in Britain
Main Attractions in Britain
Posted by admin on 3/1/2010 8:28:03 PM
No Comment »
When it comes to interesting places to see in Britain, there are countless of choices for visitors including the London Eye, natural springs in Hot Bath Street, beautiful national parks, the International Slavery Museum in Liverpool, Falkirk Wheel, and the 02 Arena among others.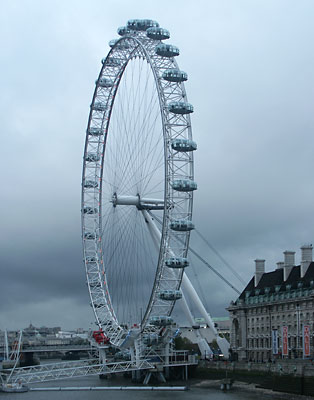 There are countless of interesting places to visit in Britain especially for tourists who want to have a different vacation experience. Meanwhile, here is the rundown of the most popular attractions in this European country:
London Eye
This 135-meter wheel, which is located on the South Bank of the Thames, is one of the most iconic attractions in London and has been considered as the most visited landmark in UK.
Visitors can enter inside the London Eye which is the tallest observation wheel in the world.
Natural Springs in Hot Bath Street
There are natural springs along the Hot Bath Street in England where nearly 1 million liters of water rise from the underground. Meanwhile, there are several spa centers that offer high-class amenities and facilities to visitors.
Beautiful National Parks
Most public parks in UK are not only for outdoor activities but also serve as a national reservation for historic villages and farms and breathtaking landscape in Wales, England, and Scotland.
These are the largest parks and reservation in UK: The South Downs which is England's chalk desert that has been declared as a national park in 2009; Loch Lomond and The Trossachs where the largest freshwater river in the country can be found; and the Cairngorms which is a 1,467-sq miles of forest in Central Scotland.
The Falkirk Wheel in Scotland
This mega structure, which was reopened in 2002, is the only rotating boat lift in the world as it bridges the 115-ft water level difference between the two canals in Falkirk Scotland. And today, this structure has allowed people to navigate between the Atlantic and the North Sea.
The International Slavery Museum in Liverpool
This museum, which is in the third floor of the Merseyside Maritime Museum building, has an extensive collection of displays showcasing the slave trade which has made many Liverpool merchants rich between the 1500 and 1800s.
More than 200 years ago, the slave trade in Liverpool was booming, including the industries related to the goods produced by African slaves such as cotton and sugar. However, there was no slave who has set foot in this city.
The 02 Arena
In 2008, the Millennium Dome was reopened and was renamed as the 02 which now serves as an enormous entertainment complex that has sports facilities, small theaters for live performances, restaurants and bars, cinemas, and exhibition space.

Places to Visit in Glasgow, Scotland >>