Places to Stay in Destin
Finding the Best Accommodation in Destin
Posted by admin on 2/7/2010 5:02:21 PM
No Comment »
It is to find a place to stay in Destin. Since this town is surrounded by the beach, almost all accommodations in the area are resort type or with a beach front view. There are also bed and breakfasts as well. It is best to select an accommodation based on its amenities and prices.
If you want to visit a place with emerald waters and sandy white beaches, the paradise of Destin Florida is on top of the list. Situated in the coastline of the Gulf of Mexico, there are miles and miles of beaches that is a perfect spot to those who love to fish, snorkel, sailing and more. Destin is a perfect choice for families and couples. There different accommodations that you can choose from that can meet budget and specific needs. Condo and vacation houses are prevalent here especially to those who want privacy. Aside from these, there are also hotels, Bed and Breakfasts and resorts that are located along its coastline.
Bed and Breakfast Vacation Spot
The sugar beach inn is a perfect bed and breakfast accommodation for people who are looking for laid back kind of atmosphere. This inn is located within the mile stretch of Destin and Panama City Beach. You can book from among the five rooms found in the Sugar beach inn. All of them are Victorian inspired with different themes. If you want the most luxurious of all then book the jasmine room where there are features of Jacuzzi tub, fireplace and veranda that overlooks Gulf of Mexico. The others rooms are decorated with style and elegant. You can go to the beach or ride a bike.
Beach Golf Resort and Spa
If you love golf then it is best to go for Hilton Sandestin. It is a four golf course considered as a golfer's paradise. This accommodation has over 600 hundred rooms that are equipped with queen-sized beds, refrigerator, wet bar, sitting area with sleeper sofa and a private balcony. The rooms are all overlooking the sea. The rooms are spacious and big perfect for large groups. If you want to be pampered then it is check out their spa. There are numerous activities that are planned for children. If you want the best vacation then select this accommodation.
RV Beach Resort
If you love the RV then you might want to book at this hotel which is considered a tropical paradise. There are a lot of RV hookups that you can find all over the place. Enjoy the amenities and facilities that are being offered by this resort. The beach is just a few steps away. This place also has heated swimming pools that guests can enjoy. You can enjoy a lot of activities for the whole family like Jet Ski, para sailing, golf and go carts.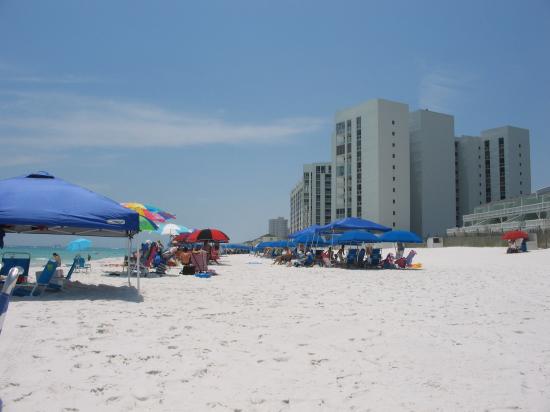 Are Pets Allowed at the Casino Hotels in Las Vegas >>